Rules of the game: Memory.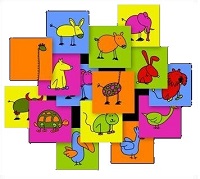 How to play?
Click two squares. If they have the same drawing, you play again.
The game
Memory is a mind game. You must remember where the pictures are and find the pairs.
Each picture is repeated 2 times on a 6x6 grid. The pictures are shuffled randomly by the computer.
The players play one after the other. Each player must click two different cells. If the two squares have the same picture, the player wins one point.
When a player finds a pair of pictures, he plays one more time.
When the grid is full, the player with the most points wins.

Hint
Remember you can set the clock parameters in the
game options
.